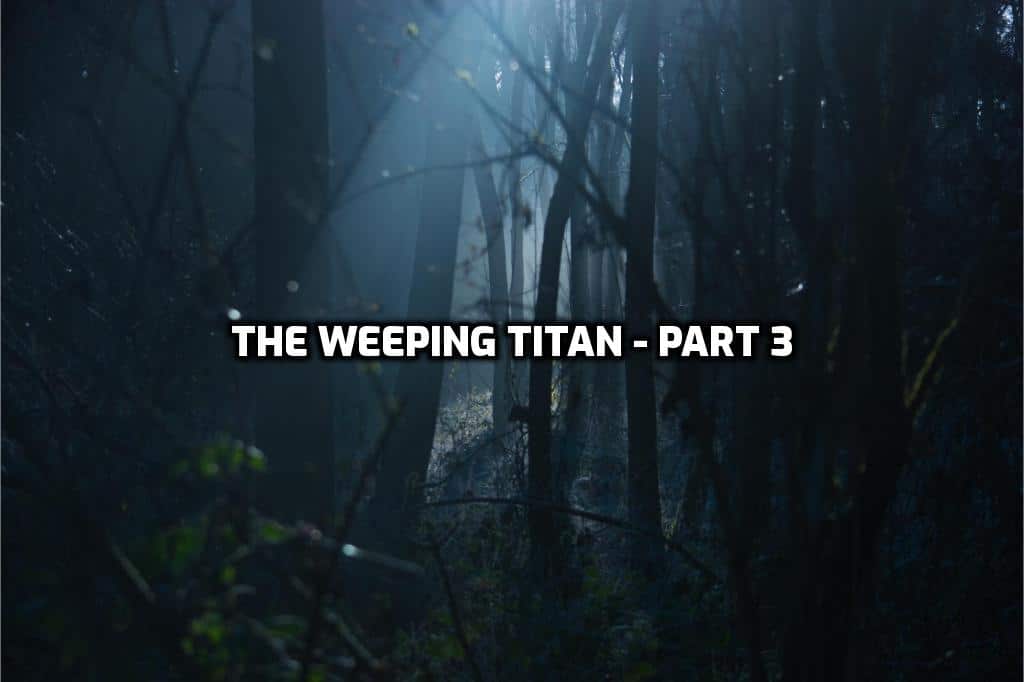 Nov
04
The Weeping Titan – Part 3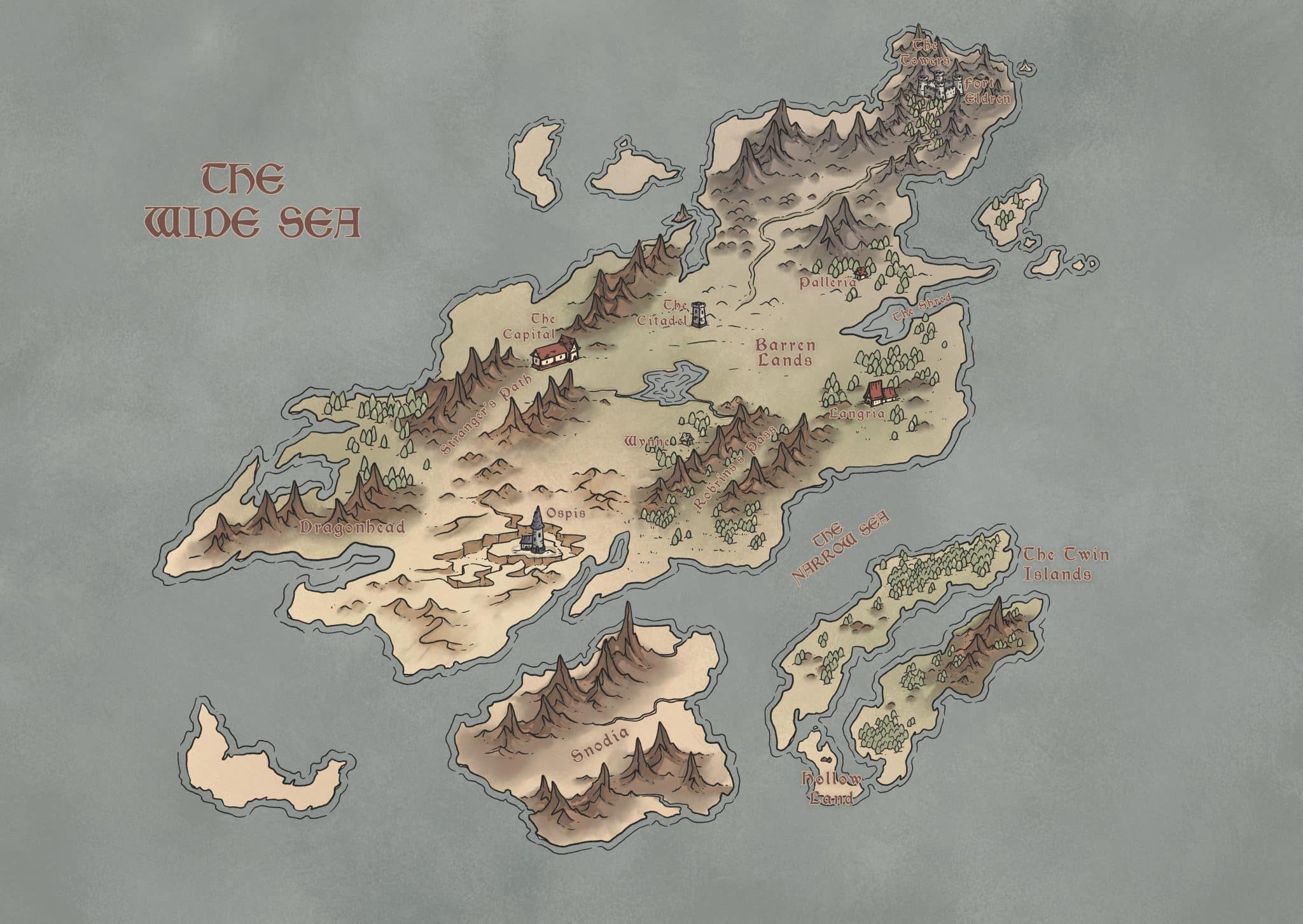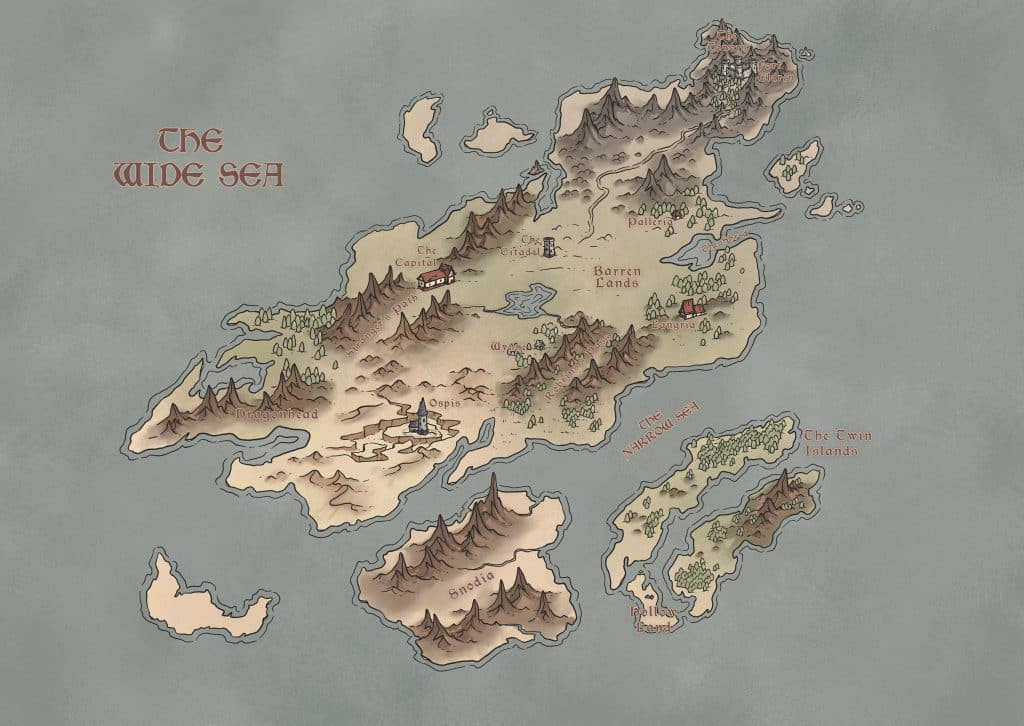 Myrn was a land of dreams. An island surrounded by water, the wind would not pose as a stranger as it carried the dust across from one end to another. The docks were overlooking The Shred. The King accompanied by the Titan, Quinn and his royal guard journeyed ahead to one of the thriving villages in the south, Delmoria.
Brelleck was no stranger to these lands. Myrn was immortalized in folklore. All desired to visit, but Titankind knew something others did not.  Since the day of creation, Titans have stayed away as much as they could from it. The stories traveled from one generation to another… one account claimed that the tools of Armageddon would be forged there, while others believed that it housed the Throne of the Creator.
"We're here," Quinn declared as they entered the village and turned towards his King. "I must stress my liege that you remain at my side at all times."
The King pushed Quinn aside. "Why would I do that?" he said as he looked him in the eye and kept walking. "I have a Titan beside me. One of noble descent. What good is a mortal then, hm?" The King bellowed as he followed Brelleck.
Quinn grinned his teeth, but lowered his head and kept moving.
Brelleck did not intend to be idle, and he wouldn't linger a moment more than he could.
"Your kind forsook this place. Why?" the King asked.
Brelleck didn't pause or look at the king, he kept walking. "Legends and myths. All speak of this place as one of dire evil."
"If that's the case, then why has evil not succeeded yet?"
Brelleck stopped and turned towards the King. "Who says it hasn't?" he kept his gaze fixated and then sighed. "It is best I approach Rodarion alone."
The King nodded. But he was visibly shaking. "You have ten minutes with him. Then my soldiers and I intervene. Do you hear me Brelleck?"
Brelleck smirked and turned around. He began to take slow steps onto a hill. There were signs made of wood that read DO NOT CROSS but he went past them in a whiff. Humans will always fear what they're ignorant of he thought to himself. As he neared the top, he could hear a sound… a voice… one that he recognized.
"Rodarion!" Brelleck shouted.
Rodarion was standing atop the hill. He slowly leaned his head backwards, looking at Brelleck with wallowed and swollen eyes. "You came, you really came brother…"
Brelleck's nostrils flared and his brows narrowed. He approached him and threw a punch. "How dare you meddle in their affairs? Huh? You swore an oath that you were done!"
Rodarion slowly got up and dusted himself off. "You're one to speak, aren't you."
"You made that oath, not me, brother. Honor it!"
Rodarion looked at his brother and wallowed. "I can't."
Brelleck was agitated. "There's a human king behind me, and he comes for blood."
"Brazen, brave and emboldened. Isn't he?"
"Don't go about and speak nonsense now, Rodarion. Do you know what the humans call you? Do you? Weeping Titan?"
"You clearly see nothing."
"You're right, I see nothing. And dammit that's the point. Father abandoned us, Rodarion… You have to accept it, you have to see it."
Rodarion shook his head. "Then come forth. And gaze beyond the mortal world," he continued as he covered his right eye with his palm. He took a deep breath and pulled his eye out. Blood squirted out, but he did not scream. "Come, gaze into it. He had it all planned, brother, all of it…" he said as he spread his hand in invitation.
"What madness are you spewing…"
"Come… this will allow you to see it."
Brelleck turned around and saw the King being impatient. He had to end it and fast. He took slow but steady steps. "Let us see what your foresight says."
Brelleck grabbed his brother's right eye and brought it closer to his. His pupils dilated as a bright light overtook him. His jaw opened wide. It was only for a few moments but to him they lasted an eternity. He saw it all.
He pulled away and threw the eye on the side gasping for air. He was panting, and fell on his knees. "No! No! No!" he shouted at the top of his lungs.
Rodarion slowly approached him. He placed a hand on his shoulder. "Did you see it?"
"How could this be… the Creator would not do this… a soul so pure and kind…" Brelleck repeated his mouth still open wide. Tears wallowed in his eyes as he swallowed. "No… this cannot be what the Creator planned, Rodarion, there must be a mistake…"
"You of all Titans know better. This is no trick, this is the power bestowed upon us by Him. This, is the power of Foresight. It is all true…"
Footsteps. Dust riled up as soldiers rushed towards the two Titans. "What is this madness!" the King shouted as he neared the two. "Answer, in the name of your king!"
Brelleck turned his head towards him and grinned, showing more teeth than he normally would. "You…" he said as he got up on his feet. "You dare mock your own saviors…" he said as he kept gritting his teeth. He lifted his hand in the air and a light shined down on him blinding everyone for moments. When the light was gone, a black sword laid in his hands.
"My liege!" Quinn shouted as he stepped in front of his king. "Protect his majesty!" he shouted at the soldiers, who all unsheathed their swords.
"This won't do," Rodarion whispered as he smiled. "Do you have any idea who it is you are raising your arms at?"
Brelleck swung his sword downwards and a wave came from the sword and knocked the soldiers back. The King remained still, shielded by Quinn. Brelleck kept walking towards them. "You slaughter innocents, and wage wars so that you remain in power, but tell me, by what right do you judge the fallen? The anguished and those who cry in fear of your tyranny?" he continued.
"My king! I'll protect you!" Quinn declared as he too unsheathed his sword.
"Put down your blade, human. Brelleck is no traitor. Even among us Titans, he is the Strongest," Rodarion tried to reason with him, but Quinn would not have it, he charged with his sword and swung at Brelleck.
Silence.
Brelleck held Quinn's sword with his hand. He twisted it and then it broke. He grabbed Quinn, and threw him aside as he kept walking towards the king.
"Stay away from me! I command it you filthy beast!" the King demanded, but Brelleck would not have any of it.
Brelleck picked up the King from his collar and lifted him in the air. "You vile, treacherous thing, you, it was you who started this… it was you!" he yelled as he plunged his hand into the King's chest and ripped his heart out.
The King spat blood, as he fell to his knees, covered in the dirt of Myrn. He gasped and struggled as the life in him faded away.
"Titan!"
Brelleck heard a shout, he turned his head towards it, and an arrow shot him in the eye. He cried, as he ran in the direction of the arrow. "I should've reduced your kind to ashes! I should've let the traitor hang you as he did your father," he mumbled.
Quinn shot one arrow after another, Brelleck would've stopped, he would've been dead had he been a human but a Titan, is no mortal. He reached Quinn and grabbed his neck. He tightened his grip on it slowly. "I want you to feel your death, you cowards!"
Quinn struggled to free himself, but then his eye caught a glimpse of something, he reached for it, and squeezed.
Brelleck let go, and shouted in agony. "The connection…"
"Brother!" Rodarion shouted as he rushed towards his brother.
"What in god's name is this… what has gone to you!" Quinn said as he gently caressed his neck. "If we are traitors, then you of all of us deserve to die the most! This is all your fault! You stepped in the war when you didn't have to!"
Rodarion looked at Quinn with teary eyes. "He is lost… he knows not your face, nor who you are…"
Quinn felt a shiver run down his spine. "What are you…"
"He thought you were someone you're not," Rodarion said as he tilted his head towards the sky. "Peril to thy, my God, I submit my will to you," he then lowered his gaze towards his brother and tears ran down his cheeks. "I'm so sorry brother… I did not mean for this to happen."
Quinn tried to move a muscle but he couldn't. Nor would any word part his lips.
"Forgive me brother, I must… you're tainted, and I must free you…" Rodarion struggled to make the words, and then plunged his hands in Brelleck. He felt the resistence, as he ripped out his heart as he did the King. Brelleck's heart was still beating. Rodarion looked at the horizon yet again. "Father! If this pleases you, then may you be appeased!" he shouted as he sunk his teeth into it.
"Are you mad!" Quinn shouted as he rushed towards Rodarion.
He wasn't fast enough, Rodarion raised his hand and a blast threw him aside again. The rubble rose towards his ankles, but when they settled, Brelleck's body wasn't there.
Rodarion covered his eyes for a moment and then looked to his right.
Brelleck's eyes had turned darker than the blackest night. "I want to see him, brother, I just want to see him…" he spoke, only this time it was much more difficult for him to do so.
"You know you can't," Rodarion answered, but his body shivered as he fell on the ground, twisting and turning in the dust.
Brelleck stuck out his tongue and then grabbed his head with both of his hands. His skin was changing. Darkening. "No!" he shouted yet again and struck the ground with his fist with all of his might. A giant ruckus rose from the collision, as the sound resembled that of thunder ripping the sky apart.
The ground began to shake violently, as a thick line began to form. The island… was being separated.
"A tremor… fitting then," Brelleck said as he collapsed. "Hollow be the land, Quinn, hollow be the land," he said as he eyed Quinn from the corner of his eye.
"What have you done!" Quinn felt the ground being split into parts and each moving in the opposite direction, the pile of dust that rose covered his vision entirely, but he squinted his eyes hard enough to make the details. Someone was standing before Brelleck, his skin turned pale. "Rodarion?" he asked.
Rodarion or what was left of him screeched as it lounged at Quinn, and drove its hands into his stomach. Quinn spat, as he groaned in pain, he had a clear look at what used to be Rodarion. Fangs instead of teeth, and his nails had grown longer and as sharp as any steel.
Quinn felt the world turn around him, but as he struggled to catch a breath, a sudden thought claimed him and he smiled from ear to ear he eased up and stopped struggling.
Rodarion's mouth began to move as he growled and twisted in his place. "Magmar…" he said with a broken voice. "You'll be remembered forever…"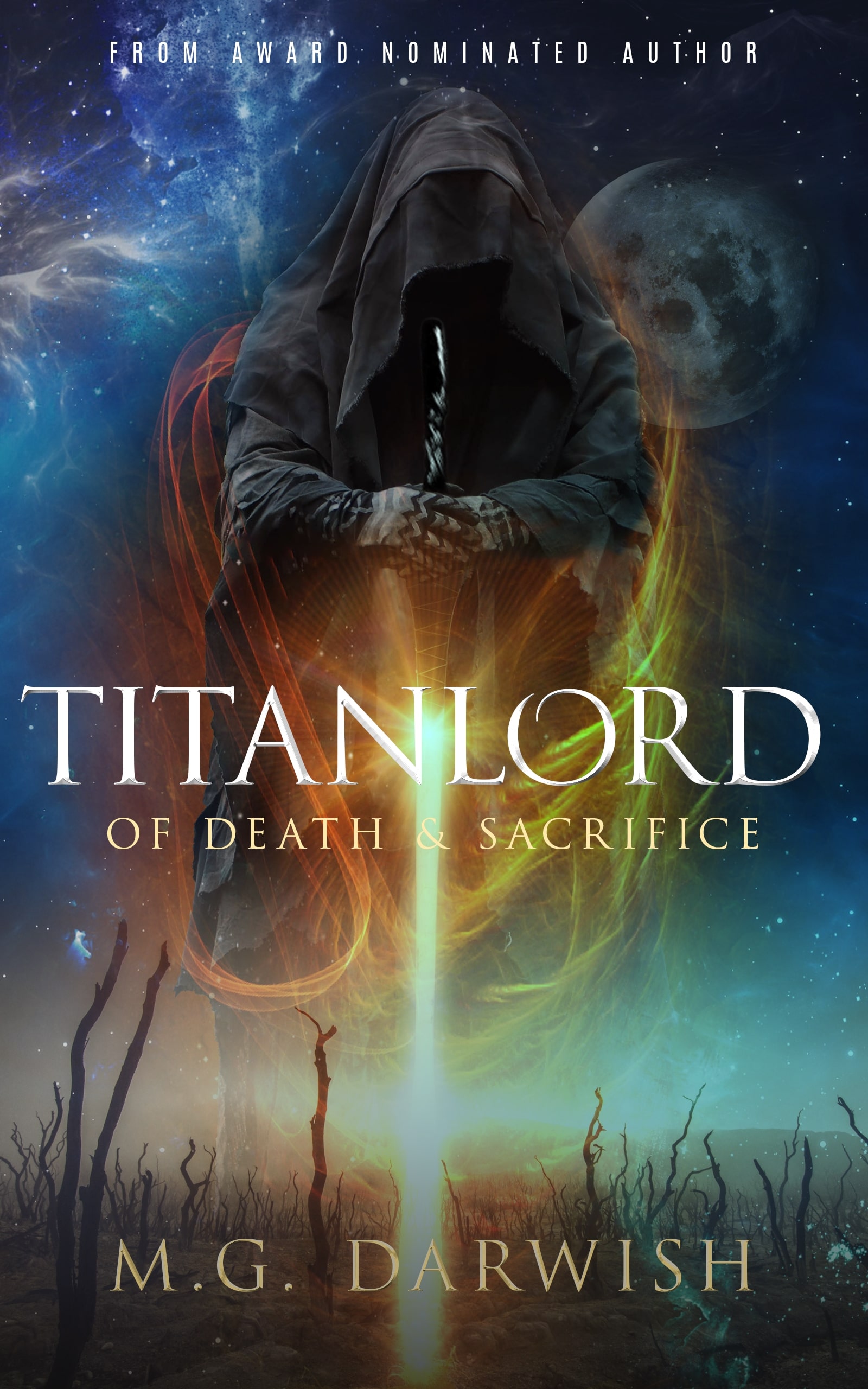 VEDA. POLLUS. MAGNUS.
Emperor Magmar quelled the rebellion. All should have been well. But there was one problem: the Red Hand yet lived.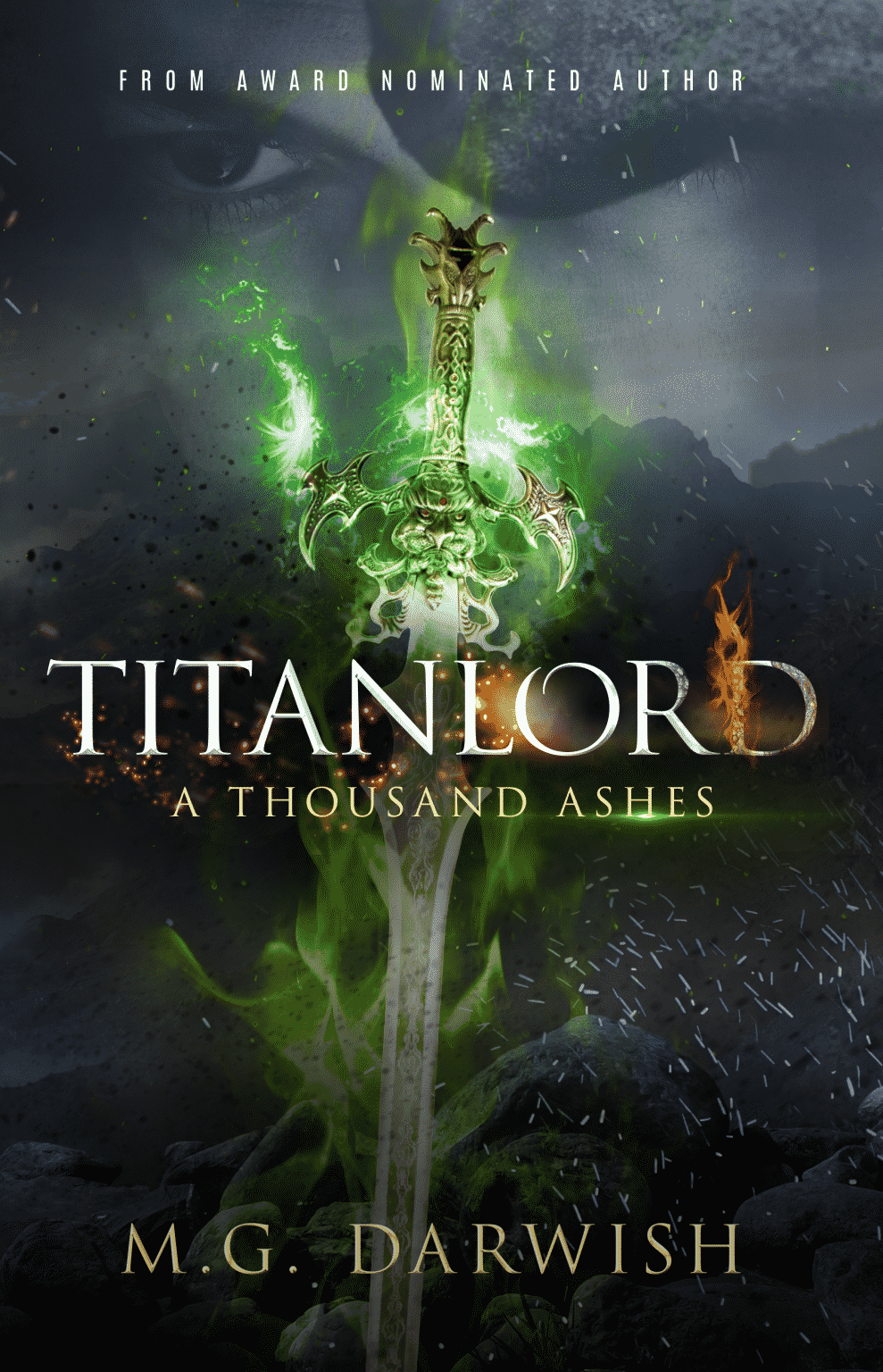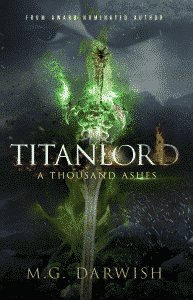 VEDA. POLLUS. COLOSSAL.
Now that the Gods have sworn to eliminate humanity, the Empire has fallen, ravished and turned to dust. The Magmars are no more, and he alone holds the key to salvation