Apr
02
Sneak peek: Read Chapter 1 for free – Titanlord: Child of Prophecy
In preparation for the book's release on April 6th, you can now read the first chapter of Titanlord: Child of Prophecy for free (I hope this makes up for the delay in release, but just to sweeten the deal a bit further, if you pre-order a copy, and send me a screenshot of the confirmation page on hello@mgdarwish.com, I'll send you the following 3 chapters right away – you'll be able to read Chapters 1, 2, 3 and 4).
Without further ado, please enjoy this!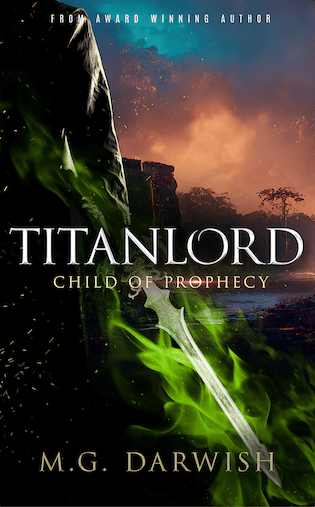 Chapter 1: The Crowning
Griffyn woke up from a long slumber that felt like an eternity. The fight at the Capital haunted him. It left a bitter taste in his mouth that lingered no matter how hard he tried to shake it off.
The battle alone cost him nearly everything, he had lost so much that his dreams ceased to be defined based on the terror on his face, but by the grim reminder about humanity's fragility against the Gods who had descended to burn them to ashes.
It's been almost two months since that battle, since he lost so many, so much in such a short time. He woke up, his vision fazed and blurry; he panted heavily as he held his head with both hands and pushed, trying to silence the demons that spoke to him. "Leave me alone!" He shouted, and his door flew open.
"Again?" Natasha said as she approached and sat beside him. She placed a hand on his forehead. "Easy there, it was a dream, Griffyn. Breathe," she said. "Breathe," she repeated.
Griffyn put up a brief struggle, but soon gave up. His body shook uncontrollably. He wished it was just the cold, but he knew better. "I'm sorry I'm such a burden…" he mumbled as he bit his lips. Memories of the past flooded his face and tears spilled down his cheek.
Natasha shook her head and touched his shoulder. "It is done," she said. It wasn't easy for her too. It's been three months since the battle at the Capital but two months since she had heard about her commander's and sister's passing. She had tried to cope with their loss, but it still hurt more than anything she ever went through, but even then she knew the fight was not over. No, it was only the beginning.
"If only it had been me who–"
Natasha's hand interrupted him before he could finish the thought. His cheek was swollen, and he could only gaze upon her dark hazel eyes. "Don't you dare make light of their sacrifice," she snapped. Her face reddened with anger at his selfishness. How could he think like that after so many had died for him? "You lived. Let that be the end of it."
He mumbled her name and sighed. "You weren't there."
"It doesn't matter, you were, and you lived."
Griffyn shook his head, breathing from his nose and taking his eyes off her. He couldn't bear the thought that had he been more powerful, more useful, perhaps he wouldn't be alone right now. "I'm not strong enough to deal with this," he paused for a moment. "No one is," his voice softened.
"You think the commander would've given you his sword if it was so?" A thin smile lined on Natasha's lips, and she swallowed. "Everything that he does has purpose, Griffyn; he is not the type of man who would do something without–"
"Natasha!" Griffyn cried as his eyes grew wider. "A Titan couldn't fight them, the Red Hand couldn't fight them; no, even if mankind gathers and unites all the armies in the world, it wouldn't be enough!"
Natasha smiled faintly; she couldn't explain why, but nothing else mattered anymore. She rose up and turned her back on him. "Then it's good you are no longer a human," she muttered under her breath as she walked away slowly. "We're waiting for you, the crowning."
Griffyn struggled to form words; he stuttered as he tried to speak. He knew he was no longer fully human, having absorbed the power of the Titans. The Gods would fret over his status and the source of his incredible power. Despite this, he pushed himself to his feet and picked up the Masamune, the legendary sword entrusted to him by commander Benjen in his final moments.
Outside, the air was electric with anticipation. People rushed back and forth, shouting into the horizon that it was time. They were all gathering in the square, a cramped space that struggled to contain the throngs of people pouring in. The fort was still in disarray after the terrible siege they had just survived, one that made the old rebellion pale in comparison.
It had taken everything from them to endure long enough until Griffyn finally arrived, and even then, the one leading the Dwellers, those dark, corrupted beings from the underground, proved to be such a formidable opponent that so many brave souls perished against him, it took Griffyn all he had to stop that thing, and even that was not enough. It wasn't until Colossal intervened that they truly got the upper hand.
"Ah, Griffyn, you're awake," said Master Lewin as he strode towards him, gently stroking his white beard. "Did you sleep well?" he asked, even though he knew the answer. He knew that the gift of sound sleep was not for people who had endured as much as Griffyn had.
"As best I could," Griffyn shot at him. He avoided eye contact.
"Did you hear the voices?"
"No, I haven't."
"Weird… it seems that you stopped exhibiting Titan Power right after your fight against the Dweller Lord," Lewin said as his eyes narrowed. He was focusing on him to try to spot his body language; he knew that such terrible power came at a cost, and no doubt that it was taking its toll on him, but alas, he was the last hope mankind had of emerging victorious. If they are going to fight this war, they will need Griffyn's Titan Powers.
"Leave him alone, would you, Lewin?" Natasha barged between them, grabbed Griffyn, and pulled him towards her. They kept a steady pace as they passed through the wide and circular courtyard; at the very middle lay a wooden platform that had been prepared for the occasion, and atop it sat a chair overseen by the guard towers.
All the soldiers gathered were silent as Natasha raised a hand. "Brothers and sisters of the light," she waved at them as her eyes narrowed. "We are gathered here to honor our tradition in selecting who rules us," she turned, winked at Griffyn, and bowed. "Here sits the boy who challenged the Gods on behalf of us all, the one the old commander entrusted to bring us back his sword. The one who refused to die until he saved us."
The crowd mumbled; they sounded like busy bees dancing along flowers in a bright garden, if it was two months ago, they would raise their concerns at the thought of being ruled by a boy, but after he single-handedly lifted the siege of Fort Eldren and defeated the Dweller Lord with his Titan Powers, they all understood the truth in what he claimed, they more or so understood why their old commander chose to sacrifice his life trying to save him. He would become their beacon of hope against the glooming darkness that threatens to swallow the world whole.
Natasha's voice rang out clear and strong, carrying through the crowd as she spoke of serving the only person she trusted. "Through his guidance, let Light shine upon us today, tomorrow, and until the end of time," she declared, pausing for dramatic effect. "Of the light, by the light!" The crowd roared in response, their chants echoing in Griffyn's mind.
Griffyn felt a sense of unease settle over him as he rose from his chair. He took a deep breath, steeling himself for what he was about to say. "I don't know if you all heard what happened in the Capital," he began, his voice low and tense. "They called it a reckoning, but it was an attack designed to wipe us all out." He paused, scanning the faces of the gathered soldiers and citizens. "I don't want to go through that ever again."
With a determined look in his eye, Griffyn drew his sword and raised it high. "For our friends!" he cried, and the crowd's cries soon joined. Their swords glinted in the sunlight as they raised them in unison, their voices ringing out in defiance against the darkness threatening to consume them all.
Don't stop the journey. Pre-order this on Amazon, and send a screenshot of the confirmation page to hello@mgdarwish.com (mention 'Pre-order' in the email subject) to receive chapters 2,3 and 4 and read on!