Oct
16
Tour Schedule – The Long Night


The Tour Schedule for The Long Night is here! I'm very excited to announce the beginning of the The Long Night Blog Tour! I'm working with XpressoTours to organize this, and I couldn't be happier with the results. So, I'll put the tour schedule here so you can check out the interviews, reviews and posts. Feel free to go through them, and comment away (I'll definitely be checking the blogs and repsonding to the comments when I can). 
P.S: If you haven't checked the publication announcement, here it is.
This was honestly a thrilling experience that I can't wait for everyone to check, so don't hesitate and click the topics! You cane ven find a playlist that I used when writing the book (so you can immediately feel the same vibe I was feeling when I wrote it).
Don't forget to participate in the tour giveaway as well, I'm giving away lots of prizes to some lucky winners!
Tour Schedule – The Long Night
Keep in mind, that the schedule will show dates that are coming (look towards the next posts).
October 14th
October 15th
October 16th
October 17th
October 18th
---
Blog Tour Giveaway
Fortier Series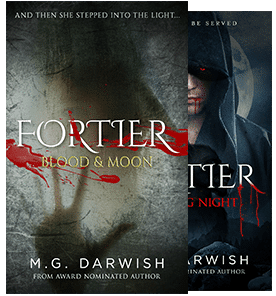 Fortier: Blood & Moon
Grab for 0.99$
The Long Night: Blood Will Be Served (Book 2 of Fortier)
Grab for 2.99$