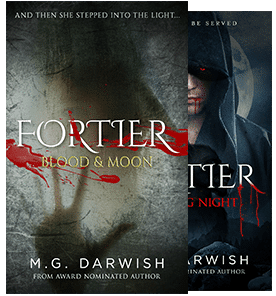 Aug
30
Behind The Story – Fortier: Blood & Moon (Now Available in Paperback)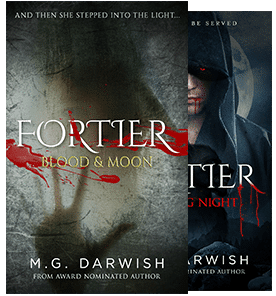 Behind The Story – Fortier: Blood & Moon
Behind The Story – Fortier: Blood & Moon! My favorite segment in this blog is back and just in time to prepare you for the release of the Long Night. However, I will be dissecting Blood & Moon. A novella, written two years prior to the release of book 2. Keep in mind, I had no idea I would write a direct sequel (let alone a novel). If you're wondering if you should read Blood & Moon prior to The Long Night: you don't have to. I wrote the Long Night specifically with this in mind. You can read Blood & Moon and meet some of the main cast, but it's more of an expansion on the novel.
Blood & Moon… Oh, what an experience writing this. I came up with the concept after spending a good 15-20 minutes explaining to a friend of mine how vampires were much more than what is shown. I found myself reminiscing about the times where vampires would give others nightmares. Vlad the impaler? Dracula? Buffy the vampire slayer? Those kinds of stories/characters that inspired the whole genre from the beginning. Yet, still there was so much more to vampires than what was out there -or so I thought.
"What would be my take on vampires?" I asked myself one day and decided to write this just for fun (didn't intend to publish it at first). How could I use this exercise to make myself a better writer? Do something I never imagined I would do (to be fair, I never thought I'd write about vampires in the beginning anyway): write in first person. When I started to write it however, I was having so much fun that I didn't want it to end like that. Thus, in a few days, the direct sequel (novel-length) will be released on 9.9.19.
And you know what? Fine. I'll announce it here: there's going to be book 3. In fact,  I'm so sure of this that I am willing to post the -working- title here. Just comment below, and let me know you want to know what it is.
Blood & Moon took roughly around 3 weeks to write and finish the first draft. Then it went into my writing process (editing, editing, editing, revise… editing and then some beta reading, editing and then release). Honestly, I started writing this with the idea that it's going to be another short story (just below 7.5K words). But as the events transpired, I found myself fighting the urge to finish it just abruptly. I did go back and rewrote an entire sequence to 'visualize' what was going on because I realized by limiting the words, I was actually harming the story.
Okay. So, this is Blood & Moon. It's gotta be Alfred. Until now, he remains the only character I wrote that scares the heck out of me. I've always been fascinated by those who are impulsive, yet calm… ferocious yet peaceful. The duality and contradicting nature of his traits make him a nightmare for his enemies (and the author apparently).
Did something change along the way?
There's a scene in a bar. Basically, a giant fight. In the initial draft, I skimmed through the events (yes, I did a taboo, I told instead of showing). The reason behind this was really simple: I wanted it to be a short story. But the more I wrote, the more I fell in love with that world and characters and I felt that I needed to do them justice.
Since this was a novella (and honestly, I didn't really outline it because I never thought I would take it seriously) there were a small number of scenes. The technical aspects of writing came in towards the end: provide a fitting end to the story in a way that propels both the plot and character forward. Make no mistake this was no easy task, as Alfred is considered the Strongest Vampire. That ultimately removes any sense of danger, so I think the toughest scene to write was the ending. Really. You can break overpowered characters, but Alfred was just… something else.
The keyword is "write" and not "rewrite" and no I'm not cheating. I wrote it chronologically actually. Beginning to end. Sure, I went back and altered a few scenes… fine, the last scene was the bar scene (right towards the middle).
I always enjoy writing Behind The Story segments. So definitely keep an eye out for the next one!
Until then,
Write on.
---
Announcement: Blood & Moon is now available in Paperback on Amazon! If you're like me, and prefer to actually hold a story in order to read it properly, then this should make you happy!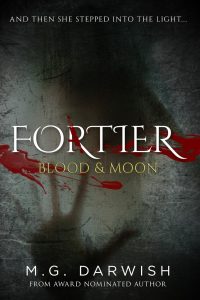 HEED HIS CALL
Alfred Zeidan is his name…
FOR DARKNESS FALLS
…Fortier is what he's called
WHEREVER HE WALKS
And it is death he brings…
Alfred is a vicious, deadly and renowned vampire that secluded himself away from everyone for hundreds of years, until a message reaches him from his father calling for his return. 
Part of him knew that this was about the Bertrams, another family of vampires that are fierce rivals and sworn enemies of the Zeidans.
In fact, the whole reason why he shunned the underground, was because of  the century long fued between them that dates back to the Salem Witch Trials… but alas he returns. For better, or worst.
---
You're still here? First of all, thank you. Let me know what you thought in the comments. Now, would you like the ebook version of Blood & Moon for free? Because I teamed up with a lot of talented authors and have organized a giveaway (get free books. What a great deal right?). Click the link and have run reading!